I've reversed polarity and am hiking the AT again! Last year I had planned to hike the northern half (Harpers Ferry -> Mt. Katahdin) of the trail then flip back and walk the southern half of the trail (Harpers Ferry -> Springer Mountain), while perhaps catching a showing of the Book of Mormon musical in New York and taking a few days off on my way back. But I never got Book of Mormon tickets, and after summiting Katahdin I decided that three months was enough months of walking for one summer.
Now, almost exactly a year after ending my 2011 semi-thru hike, I returned to the Harpers Ferry Hostel, where my dad and sisters and I began our hike last year, and started walking south on August 23. To complete the symmetries, a few days before returning to Harpers Ferry I got to see one of the first performances of the Book of Mormon in Denver.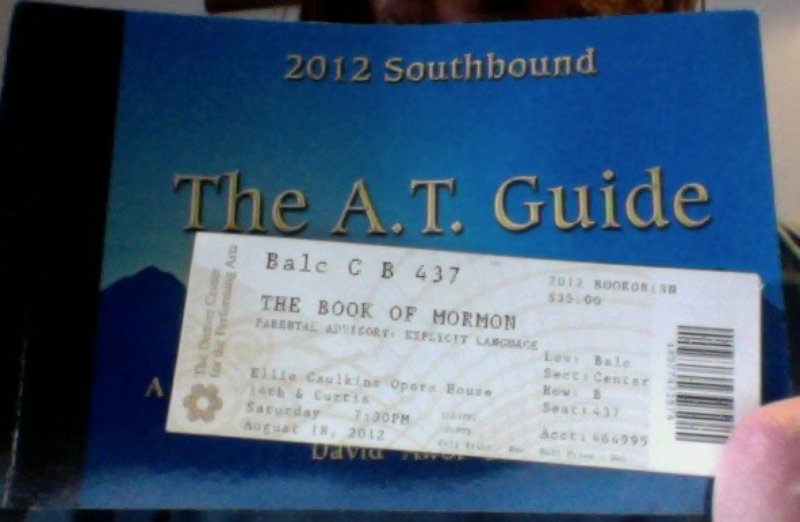 Figure 1. My "Book of Mormon" ticket and my southbound AT guide. Yes, I brought my ticket with me just so I could take this photo (from my motel room in Front Royal, VA).
I experienced trail town hospitality almost immediately after getting off of the train in Harpers Ferry. While walking uphill on the street towards the hostel (about 1.5 miles from the train stop), a man hurried out on to his back porch with a cold bottle of water for me.
Water was a problem for me for the first few days of hiking. My first day out of Harpers Ferry, after stopping at the Appalachian Trail Conservancy headquarters to have my photo taken — this year 1,015 northbound thru hikers registered, a new record; only 14 southbound thru hikers got there before me; I was the 82nd section hiker to check in — I walked 10 miles to the first shelter/campground. I ran out of water and trudged a very thirsty last 3.3 miles to the shelter. Luckily the spring there was flowing, or I'd have been facing some serious dehydration!
That first 10 miles was surprisingly hard for me. More than once I was so thirsty and my legs so tired I had to take a long rest. I think a combination of being out of hiking shape, the heat (over 90 that first day!), and not being used to the humidity was more than my body knew how to handle at first. For the first few days I'd sweat out all the water I'd drink at the slightest climb, which caused me to continually underestimate how much water to carry with me.
The second day (now through West Virginia and into Virginia) I arrived dry and thirsty to water sources a few times, but at least my legs were working. I did over 17 miles, most of them on "the roller coaster," which, as my guidebook describes it, is "13.5 miles of tightly packed ascents and descents." That restored my confidence.
I've now gotten my trail legs, as they say, once again and am using a more reasonable volume of water per mile, so I no longer have to carry so much between sources.
I had my first resupply planned for a grocery store in Front Royal, VA, the first trail town south of Harpers Ferry. The trail crosses the highway 3.5 miles from the town, and I arrived at the crossing early in the afternoon on my fourth day. I decided I'd walk into town, get a few days' of food, then walk out and to the next shelter about 3 miles down the trail. That would have been over 20 miles of walking for only 14 miles of trail progress; I really should learn to at least try hitch hiking. It rained hard for most of my walk into town, and by the time I got there I was so drenched and not wanting the walk back to the trail, that I walked past the grocery store and straight to the motel which my guidebook listed with the least expensive nominal rate and got a room for the night. In the morning I got my groceries and walked back to the trail.
The frustrating thing is that if I'd looked at my guidebook more closely I'd have seen that there were various campground stores right on the trail coming up and that I didn't even need to resupply in Front Royal at all! I could have saved $50 of my lodging budget, saved 7 miles of highway walking, and had a lighter pack. Oh well, motels are always fun and have electrical outlets and WiFi — the two things I'm always looking for while hiking. Also showers and laundry, which are nice too.
After Front Royal, the trail spends about 100 miles going through Shenandoah National Park. It is nice hiking, with mostly smooth trail and graded inclines. There are campground stores or Wayside gas station/convenience stores every couple of days, so my food bag was never very heavy. I saw two black bears, on two different days while hiking in the park. The first was a small and very cute cub a dozen or so yards off the trail. I couldn't see its mother anywhere, but knew she probably knew where I was, so I didn't watch it for long. The second was a larger bear further off the trail who turned and ran off as soon as it saw me. I also saw six velociraptors, who, in single-file fashion, crossed the trail in front of me and stalked off into the underbrush. That was a fright, although it is also possible they were wild turkeys.
After Shenandoah the trail arrives at the second trail town south of Harpers Ferry: Waynesboro, VA, where I am now. Waynesboro is a very hiker-friendly town about 3.7 miles from the trail. Posted on a tree where the trail crosses the highway is a list of names and phone numbers, members of Waynesboro's Trail Angel Network, who you can call for a free ride to town. Since I don't have a cell phone, I copied a few of the numbers down and walked 1/4 mile up the road to a visitors information center to use the phone there. It turns out the man volunteering at the center, Yellow Truck, was one of the trail angels and he gave me a ride in his yellow truck to the Quality Inn here, which has a discounted hiker rate.
Yellow Truck, who I guess is retired, was very helpful and obviously enjoys spending his time helping hikers and visitors to Waynesboro. He gave me what he called his spiel on the ride into town, "You're all smelly and ugly, I don't need to know your name or your trail name because I'll never see you again…" He made sure I had his phone number, told me to call him in the morning for a ride back to the trail (which I'll do), and offered to take me to Wal-Mart or anywhere else.
The day before I left Colorado I had dinner with Evan and Timsy and, while discussing hiking injuries, I told them, "I don't get shin splints." My only nagging injury so far is a sore right shin. I can feel a lump right on the shin about an inch above the ankle. It is most painful going downhill. 400 mg of ibuprofen in the morning, and again in the afternoon on long days, has prevented it from bothering me much, but it would be nice if it went away. I had planned a 20 mile day into town, but I split that into two short days, and I'll have another short day out of town, so I think that will help. The swelling is already significantly reduced.
My feet are doing quite well. I'm hiking in the pair of Crocs I hiked down Mt. Katahdin in last year (photo). Not a single blister and my callouses are already reforming. I credit the dry weather (compared to the four days and nights of rain we started with last year) and think my feet still had some toughness left from last August.
I've been sleeping mostly in the open (cowboy style). Unlike last year I don't have a self-standing, waterproof bivy shelter. I have instead a tarp and a light bivy bag (with a waterproof bottom and, I think, rather waterproof but slightly more breathable top) which I can put my sleeping bag in if I expect much rain, though so far I've mostly only used it as a ground cover with my sleeping bag on top and sometimes my tarp setup high in case it does rain a bit. Very few mosquitoes or bugs so far!
I've only seen one tick, and that was on my backpack rather than my body. Given a choice of arachnids, I'll take spiders any day. There are plenty of those. Both big spiders with funnel-like webs in all of the rocks (and privies!), and little spiders who build their webs between trees (and across the trail) and which I never see until just before I walk through them. Then I have to quick and brush the spider off of me. It's most unfortunate when the web is head level, because I am now convinced that I forever have spiders in my hair.
The most disheartening event so far is that my Kindle's display has developed a dead spot in the upper-left corner which no longer displays. It is about 1"x1/2" and obscures the first few words of the first few lines of each page. It is still possible to read on it, but requires manually scrolling by location to see those lines, which is cumbersome. I do think Amazon may replace it for me (it is still under its 12-month warranty) when I get home, at least.
I got 5 days of food from the Kroger here, which should get me to the next good store. A few days after that I should arrive at Daleville, VA, which is a town right on the trail. I might have another update from there!

Diode